GREAT THINGS TAKE TIME
Quality material and attention to detail. Hand turned from West Virginia Hardwoods. Each bait carefully sized and balanced. Individually tank tested. Bet your "tail" she is going to hunt. We are Slo Flo, Small Batch Musky Baits.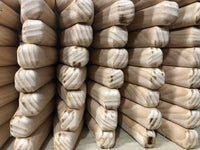 SOLID HARDWOOD
Hand Made in the mountains of West Virginia one at a time. After four  years of testing and modifications, the SLO FLO is finally ready to hunt. One Small Batch at a time.